MAKES HOT COFFEE
Hot water makes for great extraction from your favorite ground coffee beans.
You are going to be in a great mood all day when you start your morning off using this automatic small drip coffee maker.
This handy machine makes great coffe and the programmable feature means you can save time in the morning. Why waste 5 bucks a coffee and a lot of time driving through the Starbucks?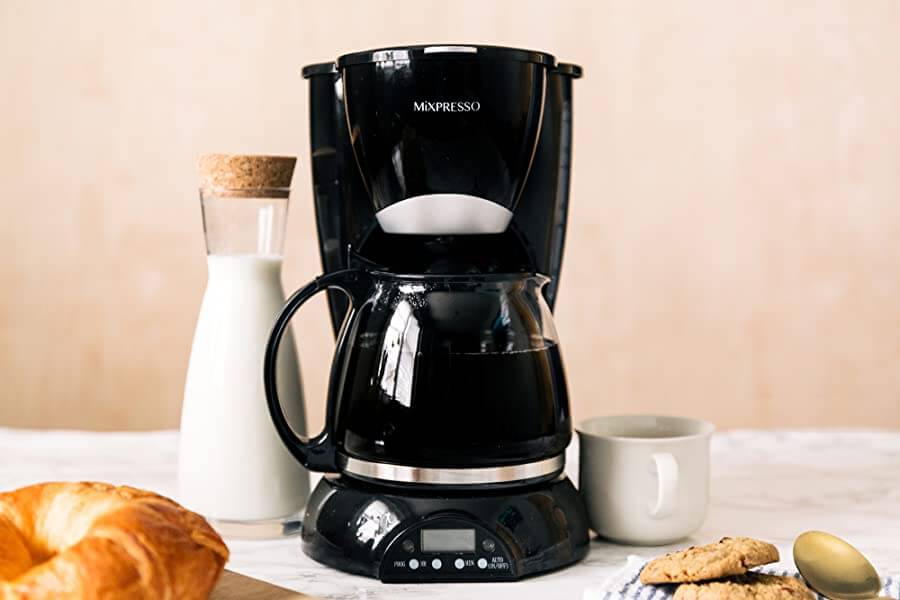 STOP THROWING YOUR MONEY AWAY:
Use any kind of coffee you want with this drip coffee maker. Why get locked into a fancy system like K-Cup or Nespresso where you are locked into their over priced coffee? Drink your coffee your way and try out whatever brand you like. Simple drip coffee makers keep you from getting stuck with some corporation's over priced coffee.
The removable filter basket is easy to clean and look at how much money you will save because you don't need to buy paper filters.
EASY TO CLEAN:
The reason you are going to make coffee every day with this machine is because it is so easy to clean. Just take out the basket and put it into the dishwasher. To clean the machine, you can descale it with vinegar and water.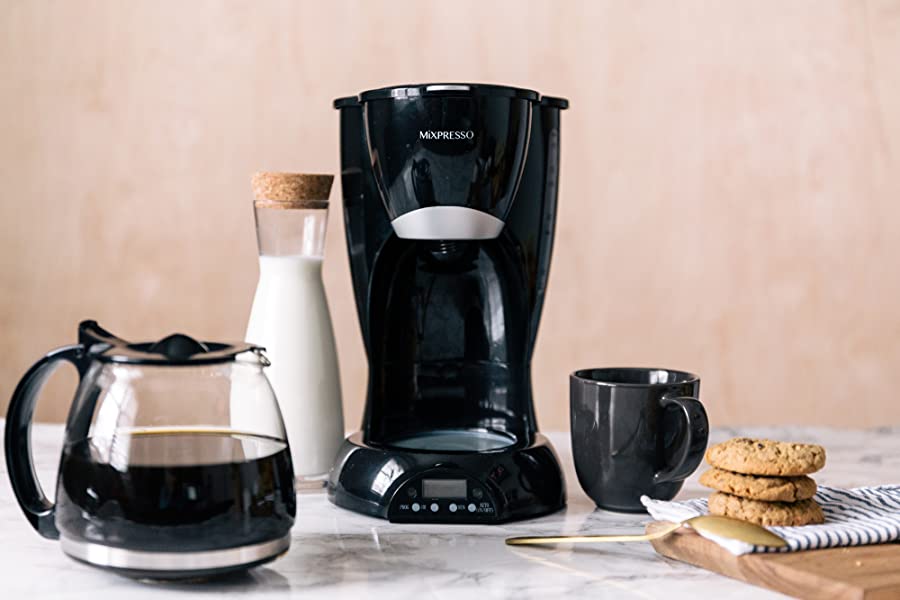 WHAT REAL CUSTOMERS ARE SAYING ABOUT THIS COFFEE MAKER:
Good basic coffee pot
By: H. Ahlbaumon May 12, 2018
Verified Purchase|Early Reviewer Rewards
This coffee pot does everything it says it does. Favorite feature is being able to grab a cup of coffee while still brewing, which doesn't need to do often because the coffee brews quickly. I haven't used the programmable feature, so I can't speak to that. But if you want a basic coffee pot, that gives you several cups of coffee (let's be real, with the size of our mugs now, you get only 3-4 mugs full) and isn't expensive, this is a good one.
works great. Pot spills if you pour too fast
By: Rachel Hodelon May 10, 2018
Verified Purchase|Early Reviewer Rewards
Overall, works great. Pot spills if you pour too fast. Could have more brewing options, but for a simple brewer, it works great!
Be prepared to experiment with amounts of water and coffee.
By; Judith M. Ortizon May 10, 2018
Verified Purchase|Early Reviewer Rewards
A compact coffee machine in a hard-to-find size. It works well. The instructions were nearly incomprehensible and it took us a few tries to figure out the right amount of water to coffee.