MIXPRESSO is one of the biggest brands in the field of coffee accessories & small kitchen appliances, our coffee machines ar the best in the market. And we are proud to sell you our coffee bean storage which is one of our best sellers. It's a unique small coffee jar made of top materials. We offer our coffee holder for ground coffee at an amazing sale, so that you can enjoy a good & cheap black canister and add it to your home kitchen gadgets!!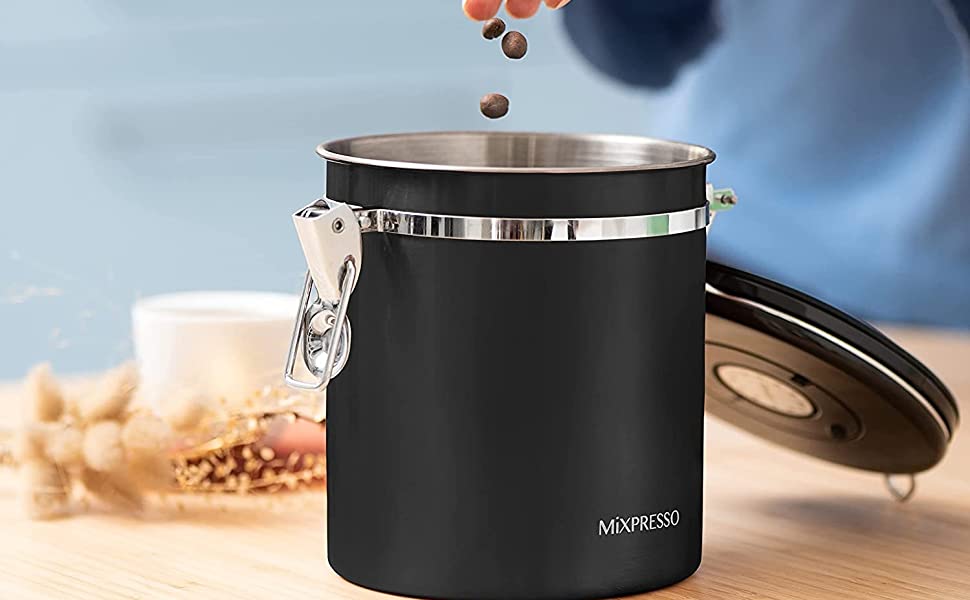 kITCHEN STORAGE & ORGANIZATION SETS
To enjoy the best possible cup of coffee at home, it is essential that you make sure your coffee is always fresh by storing them in an airtight canister like this one from Mixpresso. Coffee beans can begin to lose their freshness as soon as they are roasted. As coffee loses freshness, its natural flavors and aromas are diminished. Don't let this happen to your beloved coffee, always store your ground or whole beans in our air-tight stainless steel coffee canister. Studies show that coffee kepper like this one are the best way to keep your coffee fresher longer. Always store your coffee in one of our coffee container for ground coffee and you can say goodbye to stale coffee for good with the coffee vault.
Vacuum Seal: Maximum Freshness
Airtight canisters

Keeps Coffee fresher longer

Hold on to your coffee's strong rich, flavor

A must have for coffee lovers

Stylish stainless steel finish

Stores up to 16 ounces

of coffee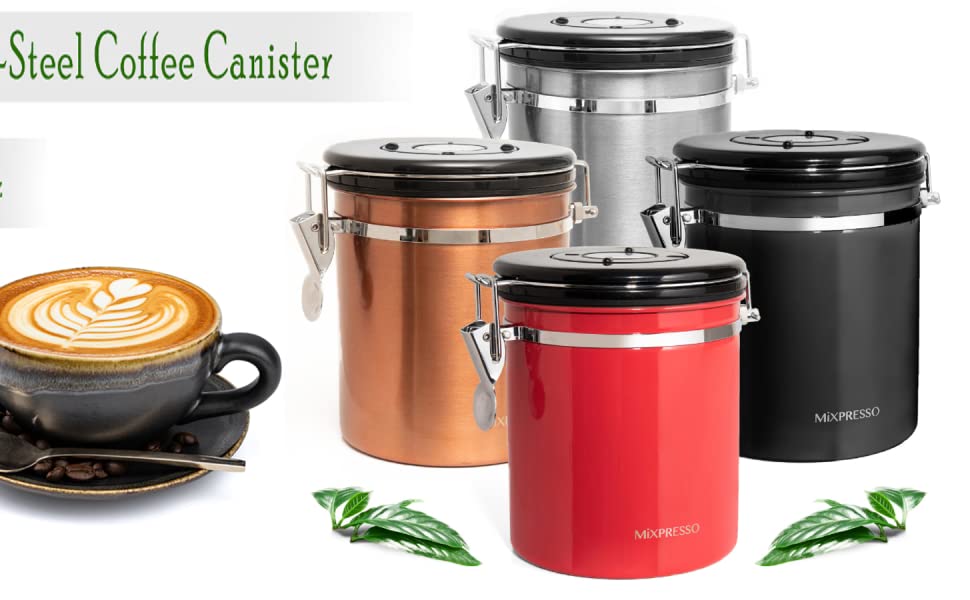 WHAT REAL CLIENTS ARE SAYING ABOUT MIXPRESSO'S COFFEE STORAGE CONTAINER
5.0 out of 5 stars
Contains convivial contents correctly
By: Fireox
March 16, 2018
Color: Silver/Verified Purchase
It's a nice product. I can fill the funnel of my moka pots (6 and 12 cup) over the top of the can without spilling those precious ground espresso beans all over my counter :-) I don't think it will hold a whole pound of coffee at once, but I only buy my espresso in 10 oz bags anyway. Oh, there's a dial/indicator thing on the top that you can use to let yourself know what date you first put the coffee in (I think). I doubt my beans will linger long enough for it to matter, but your priorities may vary. Aplausos brindis al beber, to all my fellow Cuban coffee cravers!
5.0 out of 5 stars
Coffee stays fresh in a nice looking container.
By: Teacher
March 8, 2018
Color: Black/Verified Purchase
I like how this cannister looks. I like the size and I like the design. At first, I was being swayed by the descriptions that said one needed the CO2 release valve. But I really don't think it's necessary. Since I open it every day, I'm assuming the CO2 can be released then.